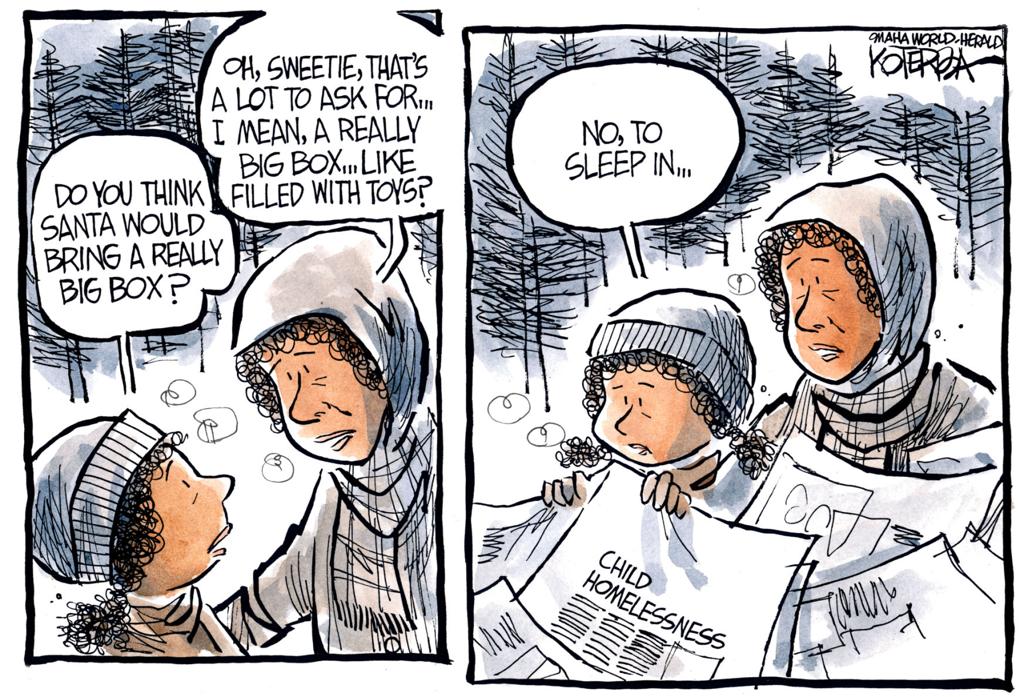 So Omaha World Herald cartoonist Jeff Koterba has put out the usual, yearly cartoonist call this season to remember the less fortunate.
So if you would all like to take a moment to bow your heads on Black Friday while you're sitting in your comfortable chair with your laptop open and refreshing madly to get that awesome, kickass deal on a Samsung television, that'd be great.
While we're a bit cold and heartless here at PYSIH, we don't want to seem that way. So let's talk about the problem of children being homeless here in the United States.
The problem is particularly severe in California, which has one-eighth of the U.S. population but accounts for more than one-fifth of the homeless children with a tally of nearly 527,000…Child homelessness increased by 8 percent nationally from 2012 to 2013, according to the report, which warned of potentially devastating effects on children's educational, emotional and social development, as well as on their parents' health, employment prospects and parenting abilities.
I wonder what particular problem California has been dealing with over the last century or so that, especially over the last few years, might have lead to an increase in child homelessness?
Enforcement activity declined in every ICE field office from 2011 to 2013, with the biggest declines in the Atlanta, Salt Lake City, Washington DC/Virginia, and Houston field offices.
Criminal alien arrests declined by 11 percent from 2012 to 2013, despite the completion of the Secure Communities program, which generates more referrals of arrested aliens than ever before. ICE agents took a pass on hundreds of thousands of aliens who were arrested by local authorities in those years.
ICE is carrying a case load of 1.8 million aliens who are either in removal proceedings or have already been ordered removed. Less than two percent are in detention, which is the only proven way to ensure departure.
As of the end of July 2013 there were 872,000 aliens – nearly half of ICE's total docket – who had been ordered removed but who had not left the country.
Perhaps the reason why we have seen such an uptick in child homelessness is because of the uptick in children from Southern American countries coming into the United States illegally? It's a stretch of logic, but let's consider it.
When you have massive numbers of children and teenagers hopping on trains and illegally entering our country, is it really surprising that many of them, upon hopping off that train, won't have anywhere to live for a while once they arrive here?
If illegal immigration is leading to increased pressure on services for American children, leading to a decreased ability for our social services to provide decent care…maybe we should do something about that.
Perhaps another Operation Wetback would miraculously solve some of the homeless problems facing California. Perhaps we should send the homeless children home, to their countries of origin.